What is Paint Protection Film?
Paint protection film is a clear, protective "film" made of thermoplastic urethane. Also known as a "clear bra," "clear film," and "clear paint film," paint protection film is applied to the outer surface of a vehicle to protect it from minor damage due to chips, scuffs, bug splatters, bird droppings, and minor abrasions. Paint protection film also protects the vehicle's paint from the damaging effects of solar UV rays.
Why Do I Need Paint Protection Film?
If you're in the market for a new vehicle, or have recently bought one, paint protection film is an excellent way to protect your new set of wheels from the wear and tear of time, road and sun.
If you own or buy a used vehicle with a well-maintained exterior, paint protection film might be a sound investment toward keeping your purchase in good shape over time.
Whether your car is used or new, though, the installation of quality paint protection film from Millennium will help keep its exterior well-maintained and factory fresh for years to come.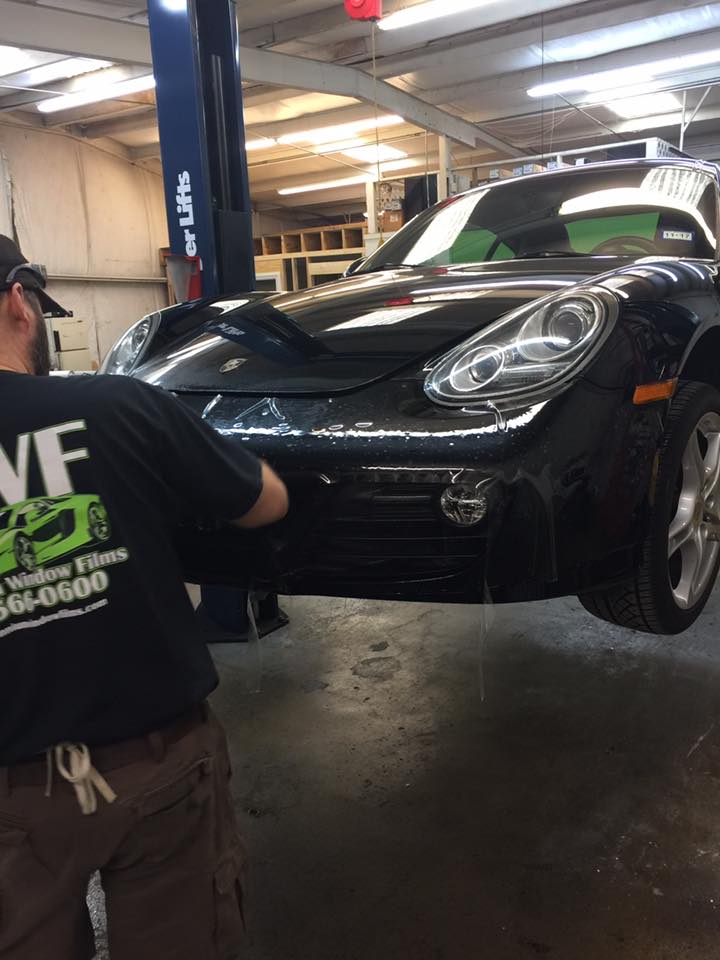 Millennium Offers a Complete Line of SunTek Paint Protection Films
At Millennium Window Films, we sell high-quality SunTek paint protection films. In fact, SunTek is the only paint protection film we sell and install. Why? Because SunTek films meet Millennium's high standards of quality and durability.
SunTek designs and manufactures its high-quality paint protection films to exacting standards, engineering each with the science and know-how of 60 years in the protective film industry. Plus, SunTek backs its films with the best warranty in the business—a warranty that's honored nationwide.
Millennium Specializes in Paint Protection Films for Cars & Trucks
At Millennium Window Films, we focus on applying paint protection film to cars and trucks. However, paint protection film is also commonly used to insulate airplanes, motorcycles, electronic screens, and other products. Whether you need film for automotive, architectural, safety and security, or even specialty applications, we've got a SunTek product to fit your needs.
Other Vehicle Enhancements
If you're looking to add even more protection and beauty to your vehicle, consider some of our other services such as:
Automotive Tinting

: Shield yourself from the bright and hot San Antonio sun by tinting your vehicle's windows. We only use the best automotive tint available and our car tinting specialists are skilled and experienced to deliver smooth, flawless results.

Vinyl Car Wraps

: Our high quality vinyl car and truck wraps protect the finish and can change the look of your vehicle quickly and for much less than a paint job.

Auto Accessories

: Millennium Window Films offers a wide selection of car and truck accessories. Check with us to see if we can help you get what you need for your vehicle.
Contact Us for Paint Protection Film in San Antonio
If you're thinking about installing paint protection film in San Antonio on your vehicle, call Millennium Window Films at 210-566-0600 to schedule an appointment or just to learn more. You can also complete the form on our contact page.
SunTek Paint Protection Films
For decades now, customers all around the globe have been installing and depending on SunTek films to help lower energy costs, and increase comfort, privacy, and safety. Millennium's team of helpful installation professionals is ready to help you find the perfect SunTek solution for your needs!
SunTek produces its products exclusively in the United States, using the latest technologies and manufacturing innovations. They produce their films to the highest standards of quality with maximum efficiency. And because SunTek films are made in the USA, you can count on them to perform as designed and advertised every time—all at an affordable price. For paint and rock protection films in San Antonio, TX, contact Millennium Window Films today!